Wilt u een zoekbalk toevoegen aan uw WordPress-navigatiemenu? Het zoekformulier kan erg nuttig zijn voor uw gebruikers om te vinden wat ze zoeken op uw site. In dit artikel laten we u zien hoe u een zoekbalk aan uw WordPress-menu kunt toevoegen.
Waarom zou u een zoekbalk in het menu moeten toevoegen?
Met een zoekbalk kunnen uw gebruikers gemakkelijk vinden wat ze zoeken zonder naar alle pagina's te hoeven scrollen.
Als u een zoekbalk toevoegt aan uw hoofdnavigatiemenu, wordt deze weergegeven op alle pagina's die het menu weergeven en kunnen uw gebruikers eenvoudig zoeken naar alle inhoud op uw site.
Er zijn meerdere zoekplugins die u kunt gebruiken om een ​​zoekbalk aan uw site toe te voegen. Laten we eens kijken hoe u een zoekbalk aan uw WordPress-menu kunt toevoegen.
Een zoekbalk toevoegen aan WordPress Menu
Het eerste wat u hoeft te doen is om de plug-in Add Search to Menu te installeren en activeren . Raadpleeg onze stapsgewijze handleiding voor het installeren van een WordPress-plug-in voor meer informatie .
Na activering, moet je naar Instellingen »Add Search To Menu- pagina in je WordPress admin gebied gaan om de zoekbalk naar je menu te configureren.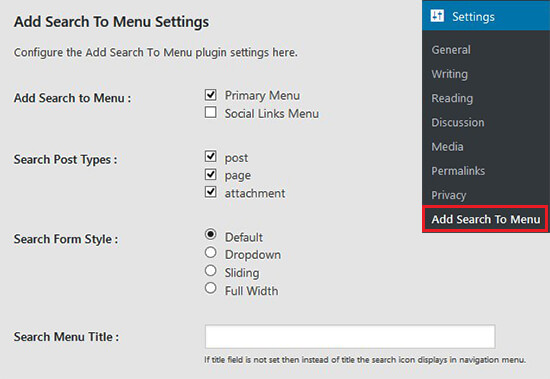 Op deze pagina moet u het menu selecteren waaraan u de zoekbalk wilt toevoegen. Deze lijst met menu's (Primair menu en menu Sociale links) behoort tot uw WordPress-sjabloon . Als u de sjabloon van uw site wijzigt, wordt de lijst automatisch bijgewerkt met de beschikbare menu's vanuit uw sjabloon.
Eenmaal geselecteerd, wordt de zoekbalk toegevoegd aan uw navigatiemenu. U kunt de soorten zoektermen definiëren, de stijl van het zoekformulier, de menutitel zoeken, het mobiele display beheren voor zoeken en meer. Deze instellingen helpen ook bij het beheren van de zoekresultaten voor uw gebruikers.
Daarna kunt u naar uw site gaan om de zoekbalk in het WordPress-navigatiemenu te bekijken.
U kunt ook de zoekbalk toevoegen aan alle andere menu's van uw site. Selecteer eenvoudig het menu van plugin-instellingen waar u uw zoekformulier wilt weergeven.
Free messenger chatbot
With a chatbot you can do the following (on autopilot): Reservations, making an appointment, customer service, sales, promotions, sending content, collecting lead info, reaching customers in messenger, and more! No coding required, set up in minutes. Click below for a free account
Free messenger chatbot