Wilt u een ads.txt-bestanden maken en beheren in WordPress? Ads.txt-bestand beschermt uitgevers tegen advertentiefraude en kan uw advertentie-inkomsten mogelijk vergroten. In dit artikel laten we u zien hoe u eenvoudig het bestand ads.txt kunt maken en beheren in WordPress.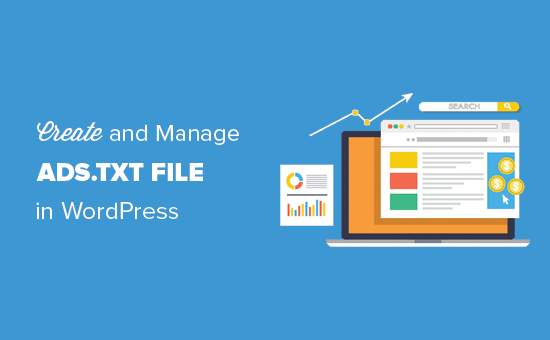 Wat is een Ads.txt-bestand?
Ads.txt-bestand stelt uitgevers in staat te verklaren wie advertenties op hun website kan verkopen. Het is een initiatief van IAB Tech Lab, een non-profitbedrijf dat zich richt op het verbeteren van digitale reclamestandaarden.
Het initiatief wordt ondersteund door de advertentieplatforms van Googlezoals Google Adsense , Doubleclick en Ad Exchange. Het wordt ook ondersteund door vele andere toonaangevende digitale advertentieplatforms.
Waarom is het Ads.txt-bestand belangrijk?
Advertentiefraude kost jaarlijks miljoenen dollars aan schade aan online adverteerders en uitgevers. Mensen met kwaadwillende bedoelingen proberen voortdurend advertentieplatforms te misleiden met spoofing van domeinen, nepklikken, nepvertoningen en meer.
Ads.txt-bestand verbetert de transparantie van online advertenties door uitgevers te laten verklaren wie hun advertentievoorraad kunnen verkopen. Hier is hoe het werkt:
Als u een adverteerder bent en iemand u vertelt dat hij uw advertentie op een bepaalde website kan weergeven, kunt u het bestand ads.txt van de website gaan bekijken. Het zal u laten zien of het bedrijf waarmee u te maken heeft de toestemming heeft om advertentieruimte op die bepaalde website te verkopen of niet.
Aangezien deze gegevens openbaar beschikbaar zijn, kunnen deze worden gecrawld, opgeslagen en doorzocht door adverteerders, uitgevers en wederverkopers.
Als u advertenties weergeeft op uw website met behulp van Google Adsense , DoubleClick of Ad Exchange, wordt het toevoegen van Ads.txt-bestanden aanbevolen.
Veel andere advertentieplatforms en -software ondersteunen of vereisen ook dat het ads.txt-bestand wordt gedeclareerd.
Hoe Ads.txt-bestanden maken en beheren in WordPress?
Het eerste wat u hoeft te doen is de Ads.txt Manager- plug-in installeren en activeren . Raadpleeg onze stapsgewijze handleiding voor het installeren van een WordPress-plug-in voor meer informatie .
Na activering moet je de pagina Instellingen »Ads.txt bezoeken om de plugin-instellingen te configureren.


De plug-in biedt een eenvoudig tekstgebied waarin u lijnen kunt toevoegen om elk afzonderlijk platform of elke individuele reseller te declareren. U kunt bijvoorbeeld de volgende regel toevoegen om Google Adsense te declareren.
| | |
| --- | --- |
| 1 | google.com, pub-0000000000000000, DIRECT, f08c47fec0942fa0 |
Vergeet niet pub-0000000000000000 te vervangen door uw eigen uitgevers-ID.
Zoals u kunt zien, heeft deze regel vier velden gescheiden door een komma. Het eerste veld is het domein van het bedrijf dat uw advertentievoorraad mag verkopen of verkopen. Daarna heeft het uw uitgevers-ID dat overeenkomt met uw account-ID in het advertentieplatform.
Het derde veld verklaart relatietype DIRECT of RESELLER. Het laatste veld is optioneel en vertegenwoordigt een ID van het advertentieplatform. Voor alle advertentieprogramma's van Google gebruikt u dezelfde unieke ID.
Problemen oplossen Earnings at risk Fout in Adsense
Een ontbrekende melding in uw ads.txt-bestand kan resulteren in het volgende waarschuwingsbericht in uw Google Adsense-account.
Inkomensrisico's: een of meer van uw ads.txt-bestanden bevatten niet uw AdSense-uitgevers-ID. Los dit nu op om ernstige gevolgen voor uw inkomsten te voorkomen.
Dit bericht geeft aan dat uw ads.txt-bestand niet uw uitgevers-ID heeft. Om dit bericht op te lossen, gaat u gewoon naar Instellingen »Ads.txt- pagina om er zeker van te zijn dat u de juiste publisher-ID heeft in de plugin-instellingen.
Opmerking: aangezien het bestand ads.txt zich in de hoofdmap van een domeinnaam moet bevinden, werkt deze plug-in momenteel alleen voor hoofddomeinen zoals example.com. Het werkt niet voor WordPress geïnstalleerd in een subdomein , submap of een enkele site in een netwerk met meerdere sites .
Op onze site staan nog 600 andere artikelen over wordpress. Klik op de volgende link voor de wordpress categorie: wordpress
Free messenger chatbot
With a chatbot you can do the following (on autopilot): Reservations, making an appointment, customer service, sales, promotions, sending content, collecting lead info, reaching customers in messenger, and more! No coding required, set up in minutes. Click below for a free account
Free messenger chatbot