Wilt u Google AMP instellen op uw WordPress-site? Versnelde mobiele pagina's of AMP is een manier om uw website sneller te laten laden op mobiele apparaten. Snel ladende websites bieden een betere gebruikerservaring en kunnen uw verkeer verbeteren. In dit artikel laten we u zien hoe u Google AMP instelt in WordPress.
Wat is Google AMP?
Google AMP staat voor Accelerated Mobile Pages. Het is een open source-initiatief dat wordt ondersteund door technologiebedrijven als Google en Twitter. Het doel van het project is om webinhoud sneller te laten laden voor mobiele gebruikers.
Voor veel mobiele gebruikers is lezen op internet vaak traag. De meeste inhoudrijke pagina's duren enkele seconden om te worden geladen, ondanks alle inspanningen van site-eigenaren om hun website te versnellen .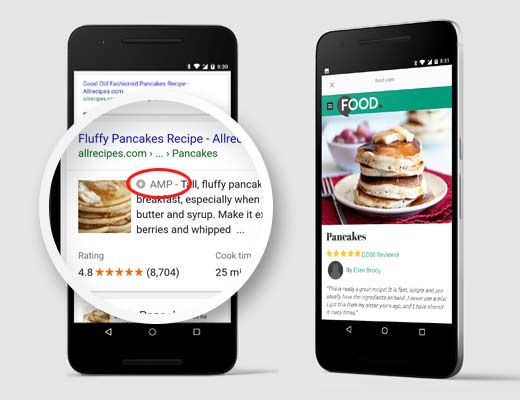 Versnelde mobiele pagina's of AMP gebruiken kale minimale HTML en beperkt Javascript. Hierdoor kan de inhoud worden gehost op Google AMP Cache. Google kan deze cacheversie vervolgens direct aan gebruikers presenteren wanneer ze in de zoekresultaten op uw link klikken.
Het lijkt erg op Facebook Instant Articles . Instant-artikelen zijn echter alleen beperkt tot het Facebook-platform, meer specifiek tot hun mobiele app.
Accelerated Mobile Pages zijn platform-agnostisch en kunnen door elke app, browser of webviewer worden gebruikt. Momenteel wordt het gebruikt door Google, Twitter, LinkedIn, Reddit en anderen.
Voors en tegens van Google AMP (Accelerated Mobile Pages)
SEO-experts beweren dat Accelerated Mobile Pages je helpt om hoger te scoren in Google en verbetert de gebruikerservaring voor mobiele gebruikers op langzame internetverbindingen. Het zijn echter verschillende uitdagingen voor website-eigenaren, bloggers en marketeers.
AMP gebruikt een beperkte set HTML, JavaScript en CSS. Dit betekent dat je bepaalde widgets en functies niet kunt toevoegen aan je mobiele AMP-website. Dit beperkt je mogelijkheid om slimme e-mailoptin-formulieren , facebookachtige vakken en andere dynamische scripts toe te voegen .
Hoewel Google AMP Google Analytics ondersteunt , ondersteunt het niet veel andere analyseplatforms . Hetzelfde geldt voor advertentie-opties die beperkt zijn tot een beperkt aantal advertentieplatforms.
Ondanks zijn beperkingen pusht Google AMP-pagina's door ze een boost te geven in mobiel zoeken.
Als een groot deel van uw verkeer afkomstig is van mobiele zoekopdrachten, kunt u profiteren van het toevoegen van AMP-ondersteuning om uw SEO te verbeteren en te onderhouden.
Opmerking: Er zijn enkele klachten over Google AMP door bloggers.
De eerste is van Alex Kras die beweert dat je mogelijk mobiel verkeer kunt verliezen als je Google AMP inschakelt. Lees het artikel aandachtig door, want dat is een groot probleem, en ondanks wat het Google Tech Lead voor AMP-project heeft gezegd, zijn er volgens ons geen goede oplossingen om dit probleem aan te pakken.
De tweede is door Terrence Eden, die de moeilijkheden van het terugschakelen van Google AMP benadrukt, mocht u in de toekomst van gedachten veranderen. We geloven niet dat dit een groot probleem is, omdat je een 301-omleiding kunt doen die verschillende hebben aangegeven in het commentaargedeelte van zijn blogposts, maar het is niettemin iets waar je aan moet denken.
Om de bovenstaande redenen schakelen we WPBeginner nog niet over op Google AMP.
Omdat een aantal van onze lezers echter vroegen naar het instellen van Google AMP in WordPress, hebben we een stapsgewijs proces ontwikkeld voor het instellen van Accelerated Mobile Pages in WordPress.
Als je de video niet leuk vindt of meer instructies nodig hebt, ga dan door met lezen.
Accelerated Mobile Pages of AMP instellen in WordPress
Het eerste wat u hoeft te doen is de AMP-plug-in installeren en activeren . Raadpleeg onze stapsgewijze handleiding voor het installeren van een WordPress-plug-in voor meer informatie .
Na activering kunt u naar de AMP- pagina Uiterlijk »gaan om te zien hoe uw site eruitziet op mobiele apparaten met AMP.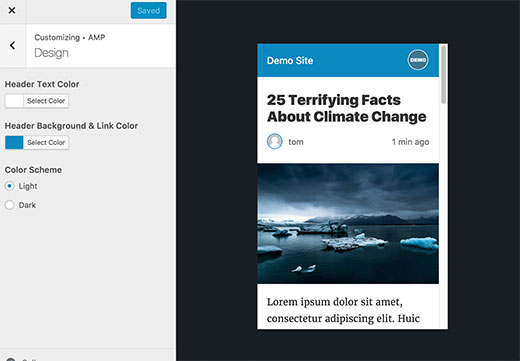 U kunt de koptekstachtergrond en tekstkleur op deze pagina wijzigen. De kopachtergrond die u kiest, wordt ook gebruikt voor koppelingen.
De plug-in gebruikt ook het pictogram of logo van uw site als uw thema dit ondersteunt. Raadpleeg onze handleiding over het toevoegen van een favicon of sitepictogram in WordPress voor gedetailleerde instructies.
Vergeet niet op de knop Opslaan te klikken om uw wijzigingen op te slaan.
U kunt nu elk bericht op uw website bezoeken en /amp/aan het einde van de URL toevoegen. Zoals dit:
http://example.com/2016/10/my-blog-post/amp/
Hiermee wordt een uitgeklede AMP-versie van dezelfde post weergegeven.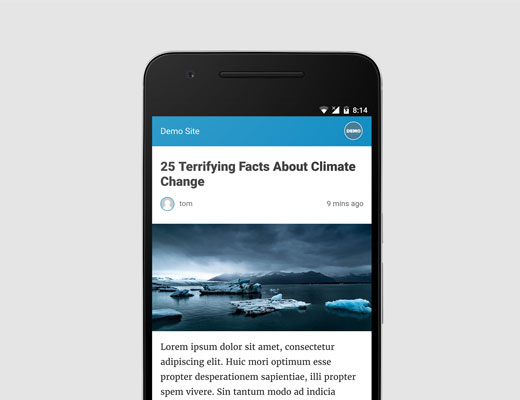 Als u de broncode van het originele bericht bekijkt, vindt u deze regel in de HTML:
<link rel="amphtml" href="http://example.com/2016/10/my-blog-post/amp/" />
Deze regel vertelt zoekmachines en andere AMP-apps / -services waar ze moeten zoeken naar de AMP-versie van de pagina.
Probleemoplossen:
Als je een 404-fout ziet bij het bekijken van de amp-versie, dan is dit wat je moet doen.
Ga naar Instellingen »Permalinks- pagina in uw WordPress-beheerder en klik op de knop 'Wijzigingen opslaan'. Vergeet niet dat hier niets verandert, druk gewoon op de knop Opslaan. Hiermee wordt de permalink-structuur van uw website vernieuwd.
Bekijk versnelde mobiele pagina's in Google Search Console
Wilt u weten hoe uw versnelde mobiele pagina's presteren in Google Zoeken? U kunt dit eenvoudig controleren met de Google Search Console .
Meld u aan bij uw Google Search Console-dashboard en klik vervolgens op Zoeken in uiterlijk »Geautomatiseerde mobiele pagina's .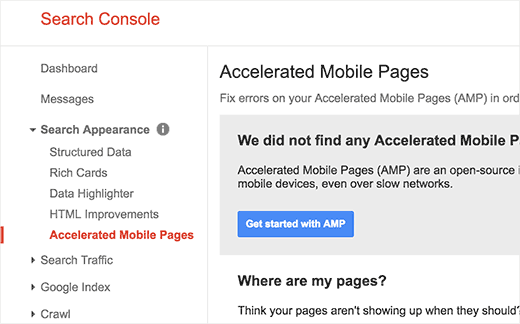 Maakt u zich geen zorgen als u uw AMP-resultaten niet meteen ziet. Het kan enige tijd duren voordat Google uw Accelerated Mobile Pages indexeert en vervolgens gegevens weergeeft in Search Console.
Uw versnelde mobiele pagina's uitbreiden en aanpassen
De AMP-plug-in voor WordPress wordt geleverd met zeer beperkte aanpassingsopties. U kunt echter een aantal andere WordPress-plug-ins gebruiken om nog enkele aanpassingen toe te voegen.
Als u Yoast SEO al gebruikt, moet u de lijm voor Yoast SEO & AMP installeren en activeren .
Het is een invoegtoepassing voor Yoast SEO en AMP-plug-ins. Na activering moet je de SEO »AMP- pagina bezoeken om de plugin-instellingen te configureren.
Met de plug-in kunt u AMP-ondersteuning voor andere berichttypen inschakelen.
Op het ontwerptabblad kunt u kleuren en ontwerpopties kiezen. Je kunt ook een logo en een standaard header-afbeelding uploaden die wordt gebruikt wanneer een bericht geen eigen afbeelding heeft.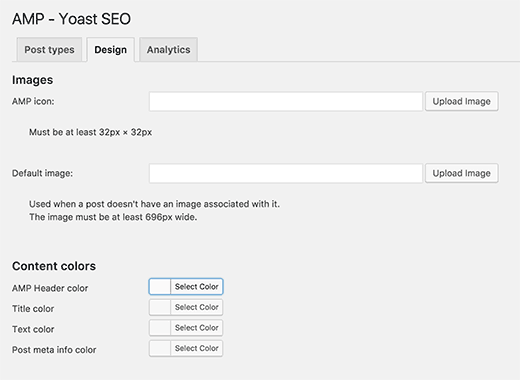 U kunt overschakelen naar het tabblad Analytics om uw Google Analytics-ID toe te voegen.
Vergeet niet op de knop instellingen opslaan te klikken om uw wijzigingen op te slaan.
Er zijn veel meer plug-ins waarmee u gerelateerde berichten , voetteksten en zelfs socialemediapictogrammen kunt toevoegen aan uw AMP-pagina's.
U moet er echter voor zorgen dat u uw AMP-pagina's valideert nadat u add-on-plug-ins hebt geïnstalleerd.
Free messenger chatbot
With a chatbot you can do the following (on autopilot): Reservations, making an appointment, customer service, sales, promotions, sending content, collecting lead info, reaching customers in messenger, and more! No coding required, set up in minutes. Click below for a free account
Free messenger chatbot