Wilt u productgalerijen van WooCommerce maken en deze toevoegen aan uw blogposts of -pagina's? WooCommerce productgalerijen zijn een eenvoudige manier om uw producten buiten uw winkelpagina's weer te geven. In dit artikel laten we u zien hoe u eenvoudig een WooCommerce productbeeldgalerij kunt maken (stap voor stap).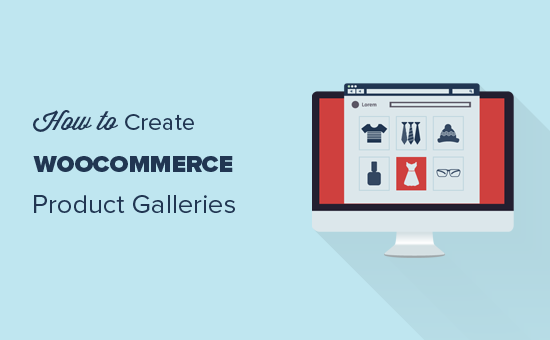 Waarom zou u WooCommerce-productgalerieën moeten maken?
WooCommerce is de meest populaire plugin voor WordPress eCommerce op de markt. Hiermee kunt u producten verkopen door een online winkel te maken .
De meeste WordPress-thema's voor WooCommerce worden geleverd met standaardsjablonen voor winkel- en winkelcategoriepagina's. Op deze pagina's worden uw producten eenvoudig weergegeven volgens de stijl van het thema.
Wat als u een productgalerie wilde maken en deze in een blogbericht of een andere pagina op uw site wilt weergeven? Door uw producten in uw populaire blogberichten en pagina's weer te geven, kunt u uw verkopen en conversies verhogen.
Laten we eens kijken hoe u eenvoudig productafbeeldingsgalerijen van WooCommerce kunt maken met Envira Gallery.
WooCommerce-productgalerieën maken met Envira
Allereerst moet u de Envira Gallery- plug- in installeren en activeren . Raadpleeg onze stapsgewijze handleiding voor het installeren van een WordPress-plug-in voor meer informatie .
Na activering moet je naar de Envira-galerij »Instellingen- pagina gaan om je licentiesleutel in te voeren. U vindt deze informatie onder uw account op de Envira Gallery-website.
Nadat de licentiesleutel is geverifieerd, kunt u naar de Envira-galerij »Add-ons gaan om de add-on 'Uitgelichte content' te installeren en activeren. Met deze add-on kunt u uw WooCommerce-producten weergeven in de Envira-galerijen.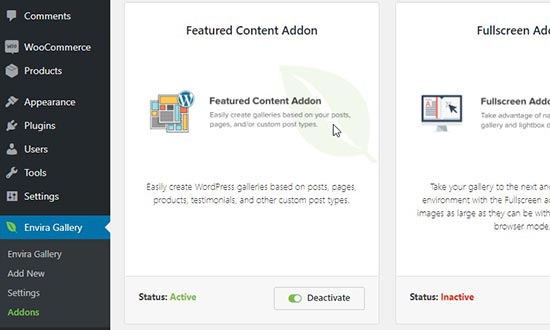 Nadat u de add-on hebt geactiveerd, moet u naar de Envira-galerij »Nieuwepagina toevoegen om uw nieuwe productgalerij te maken.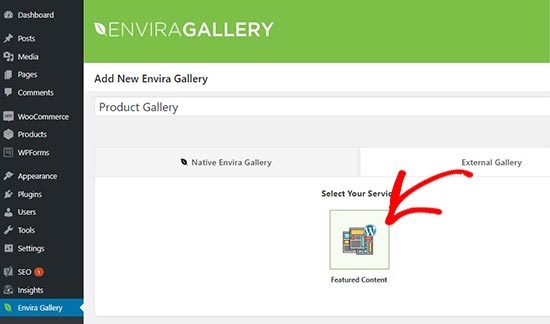 Vanaf hier kunt u beginnen met het toevoegen van een titel voor de nieuwe galerij. Na de titel moet je klikken op het tabblad 'Externe galerij' en 'Aanbevolen inhoud' selecteren.
Scrol vervolgens omlaag naar het tabblad 'Afbeeldingen'. In het veld 'Selecteer je berichttype (s)', moet je 'Product' selecteren. Dit is het aangepasteberichttype voor WooCommerce-producten.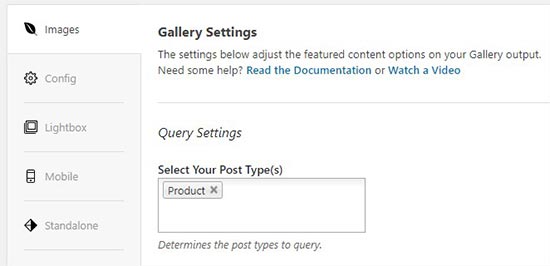 Als je honderden producten hebt, wil je misschien meerdere galerijen maken. U kunt de galerijvermeldingen verfijnen door taxonomietermen te selecteren voor specifieke productlabels of categorieën .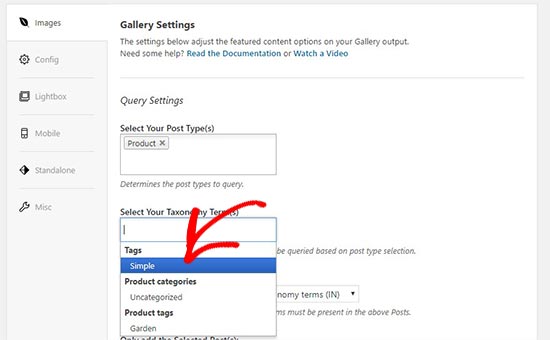 Herhaal dit proces eenvoudigweg met verschillende producttags en categorieën telkens wanneer u een nieuwe productgalerij maakt. Het berichttype zal altijd 'Product' zijn in al uw WooCommerce-productgalerijen.
U kunt ook een taxonomie-termrelatie kiezen om specifieke producten in uw galerijen te selecteren en weer te geven.

Raadpleeg voor meer informatie onze handleiding over het maken van een afbeeldingengalerij in WordPress .
Als u klaar bent, kunt u uw productgalerij publiceren, zodat deze overal op uw WordPress-site kan worden toegevoegd.
Vervolgens moet u naar de bewerkingspost of pagina gaan waar u uw productgalerij wilt weergeven.
Klik in het berichtbewerkingsscherm op de knop 'Galerij toevoegen' boven de berichteditor.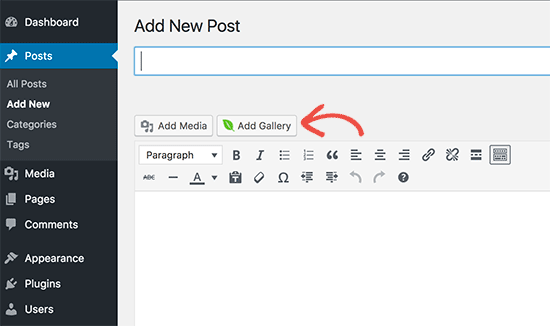 Er wordt een pop-up geopend waarin u de productgalerie kunt selecteren die u zojuist hebt gemaakt en klik op de knop 'Invoegen'.
Er verschijnt een shortcode voor uw productgalerij in de berichteditor.
Vervolgens kunt u uw bericht opslaan en publiceren. Bezoek daarna uw website om de productgalerij in actie te zien.
Dat is alles. We hopen dat dit artikel je heeft geholpen om te leren hoe je een WooCommerce product afbeeldingengalerij kunt maken.
Free messenger chatbot
With a chatbot you can do the following (on autopilot): Reservations, making an appointment, customer service, sales, promotions, sending content, collecting lead info, reaching customers in messenger, and more! No coding required, set up in minutes. Click below for a free account
Free messenger chatbot